5 Upcoming Horror Movies in 2020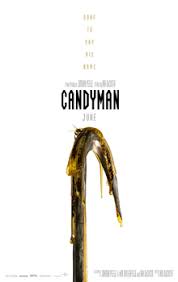 As the world finishes the first third of 2020, there are a lot of scary events that have unfolded in the real world that people can reflect upon. However, along with the horrors of the real world, film creators continue to make movies to entertain the fans of the horror genre. Here are 5 upcoming movies that should be exciting to many fans of scary movies.
Candyman: June 12th
Produced by Jordan Peele, who also produced other psychological thrillers like "Get Out" and "Us," this version of Candyman will be a sequel to the 1992 version of Candyman. The killer from the original movie stays the same in this reboot, an evil spirit whose name is Candyman and appears after someone repeats his name 5 times in a mirror. The story will take place in the now rebuilt and renewed neighborhood from the first film where Candyman originally haunted, and follows around a character named Anthony McCoy, a baby in the original film who was kidnapped by Candyman, as he unravels the story of what happened to his neighborhood when he was young. 
Halloween Kills: October 16th
Another sequel film in the classic "Halloween" franchise that will once again feature Michael Myers as he wreaks havoc on his town. The film is a part of the reboot franchise that  started in 2018, which takes the story in a different path than the sequels made after the original 1978 film. This will be the 11th film in the entire franchise, and it is expected to have a sequel named "Halloween Ends" directly a year after this film releases. It will have many iconic actors in the franchise reprise their roles, such as Jamie Lee Curtis as sole survivor, Laurie Strode and of course Nick Castle as Michael Myers, the original killer and main character of the franchise. 
Antebellum: Originally April 24th, now TBD
Produced by Sean McKittrick, another producer of "Get Out" and "Us," this movie follows a young author trapped in an alternate pre-Civil War reality and must find a way to endure and escape the terrors she faces in this reality. Though not much about the plot is known, it is expected to be on the same levels of psychological terror as "Get Out" and "Us," and is projected to do very well in theatres once it releases. It stars singer and actress Janelle Monáe, known for her performances in "Hidden Figures" and "Moonlight," and includes "Dear White People" star Marque Richardson. This film's release date was pushed back due to uncertainty over the COVID-19 pandemic.
Run: Originally May 8th, now TBD
Director Aneesh Chaganty's second film, the film follows a young, wheelchair-confined, homeschooled teenager, portrayed by Kiera Allen, who learns that her overbearing mother, portrayed by Sarah Paulson, might be keeping secrets from her that have dark implications. Sarah Paulson, who has become an award-winning performer with her key roles in the series "American Horror Story" and other grim thrillers, is expected to have a big role in the success of this film, and it is expected that she will not disappoint her fans. Lionsgate, the distributor of the film, originally planned to release the film on Mother's Day Weekend,  but now will likely push the film back also due to the COVID-19 pandemic. 
Spiral: Originally May 15th, now TBD
Also known as Spiral: From the Book of Saw, this is another addition to the Saw franchise that will have fans on the edge of their seats. The film will include big names celebrities like Chris Rock and Samuel L. Jackson, alongside other, growing actors like Max Minghella, from "The Handmaid's Tale," and Marisol Nichols, from "Riverdale." Although the film exists in the same story and universe as the other 8 films, it is not a reboot nor is it a direct sequel. The production team describes it as the most unexpected and sinister installment yet. It was originally to be released on October 23rd, but was moved to avoid competition with "Halloween Kills," but now is further delayed due to COVID-19.