Brebeuf upsets state champs Bishop Chatard 24-19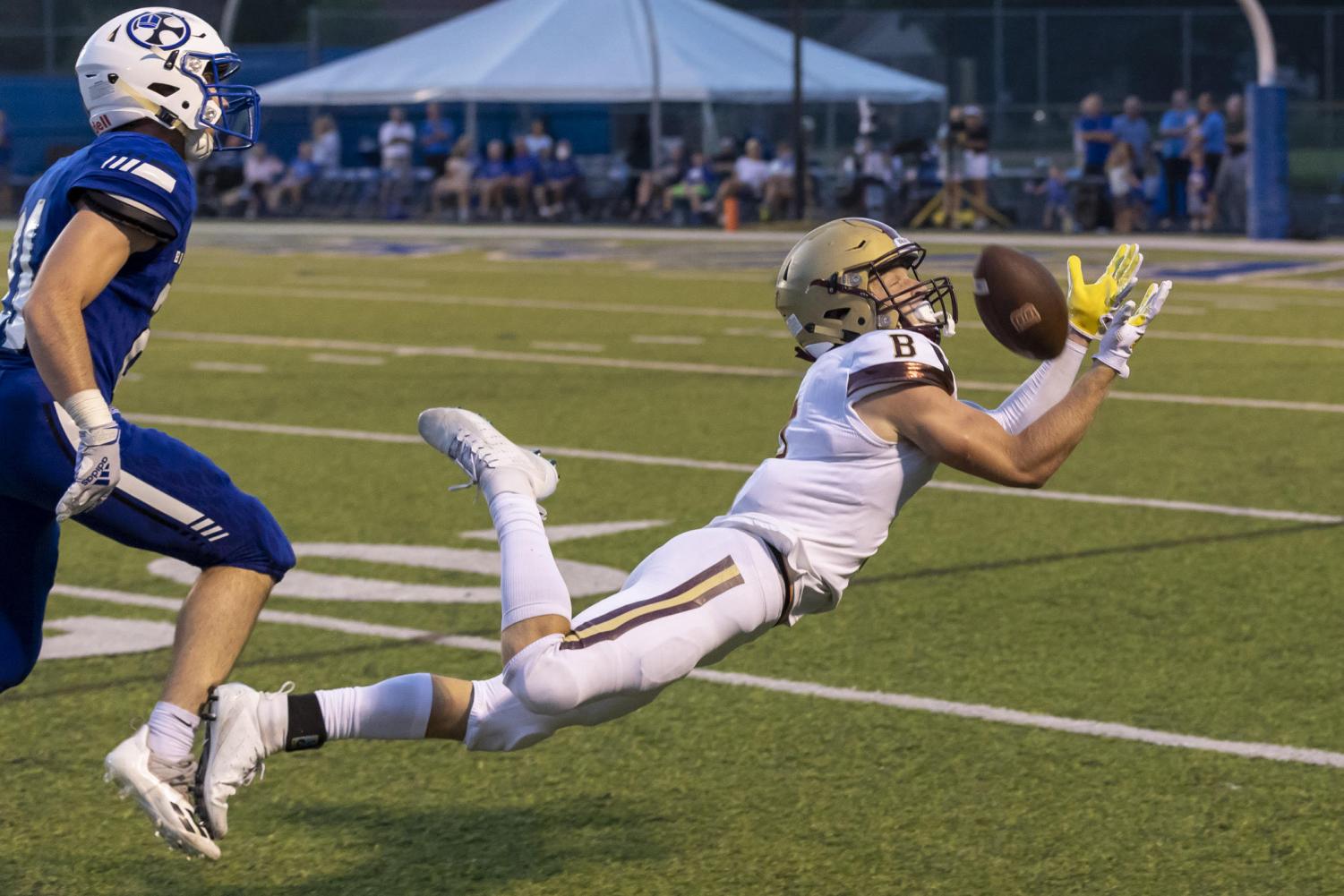 "I think this team's really special." Those were the words of head Brebeuf football coach Matt Geske when I talked to him before the season began.
At the time, I thought it was just a coach making a generic statement about his team. In the eyes of most coaches, every team is special. But on Friday night, we got the opportunity to learn first hand what Coach Geske really meant. In hot, humid weather, the Braves traveled to Broad Ripple, where they faced crosstown rival Bishop Chatard.
Brebeuf certainly wasn't expected to win this game against the two-time defending state winner, who just moved up to the 4A division after winning the last two state championships in 3A. Entering the game, Brebeuf had only won one of their last 31 matchups with each other. But by the end of the first half, it was clear this would be a game like no other.
Brebeuf began the game with their first of many great defense and special teams plays, as Ryan Joyce picked off All-City quarterback Carter St. John deep in Chatard territory to give the Braves the ball just a few feet outside of the red zone. Four plays later, Brebeuf quarterback Nolan Buckman connected with Anthony Anee for a touchdown.
Although it was the first score that Joyce set up with a big play, it wouldn't be his last. Chatard proceeded to respond with a short and succinct touchdown drive, which silenced the previously rowdy members of the Brebeuf student section. But within two minutes, the section was re-electrified as Finn Walters blocked the extra point, helping the Braves retain their 7-6 lead.
The second quarter was quiet, as the two defenses traded turnovers and punts. It was now when it became obvious that Brebeuf's offense wasn't going to win them the game; Chatard offense is just too explosive to win a shootout against. They would have to win the game through trickery and good play calling paired with big defensive plays. And trickery was present in the third quarter.
After a touchdown pass to Max Walters (which came to be because of an interception from his brother Finn) gave the Braves a 14-6 lead, Ryan Kersteff placed a perfect onsides kick in the middle of the field, which caught Chatard off guard and gave Brebeuf the ball a handful of yards outside of Chatard territory. Unfortunately Brebeuf turned the ball right back over, and Chatard began a drive the other way. Shortly after, though, at Chatard's 16 yard line, St. John threw an interception which ended up in the hands of Joyce again. "I knew that their offense had some momentum, and it was good to give our offense some good field position." It was good field position, and led to a field goal for the Braves.

The fourth quarter began with yet another touchdown for Brebeuf, which came after a string of good special teams plays. Joyce downed a punt at the 1 yard line, and after three incompletions, Brebeuf blocked Chatard's punt attempt. This gave them the ball at the 3, where Alex Haney ran it in for a touchdown.
Although Chatard was able to score two touchdowns to get within one score, Brebeuf utilized good clock management to run out the clock and leave the Trojans' stadium with a 24-19 upset. As the clock hit zeroes, fans stormed the field, screaming and celebrating the amazing win.
This game proved that Brebeuf has a solid team. Even though Chatard doubled the Braves in total yardage and first downs, Brebeuf had three takeaways, averaged starting their drives at the 43 yard line, and scored a touchdown in all three of their trips to the redzone.
Max Walters received for 105 yards and a touchdown, and Jayden Childers, Cole Williams, and Jeremiah Jackson starred on defense with 24 tackles between the three of them.
Joyce ended the conversation I had with him on Saturday with a reiteration of what Coach Geske told me: "This is one of our better teams … and we have the chance to go far this season."
This year's Braves are special, and this upset was just the first example of it. Make sure to come to as many games as you can this season, because there is no way of knowing when we will see a Brebeuf football team this good again.