Braves prevail against highly ranked New Pal Dragons 38-14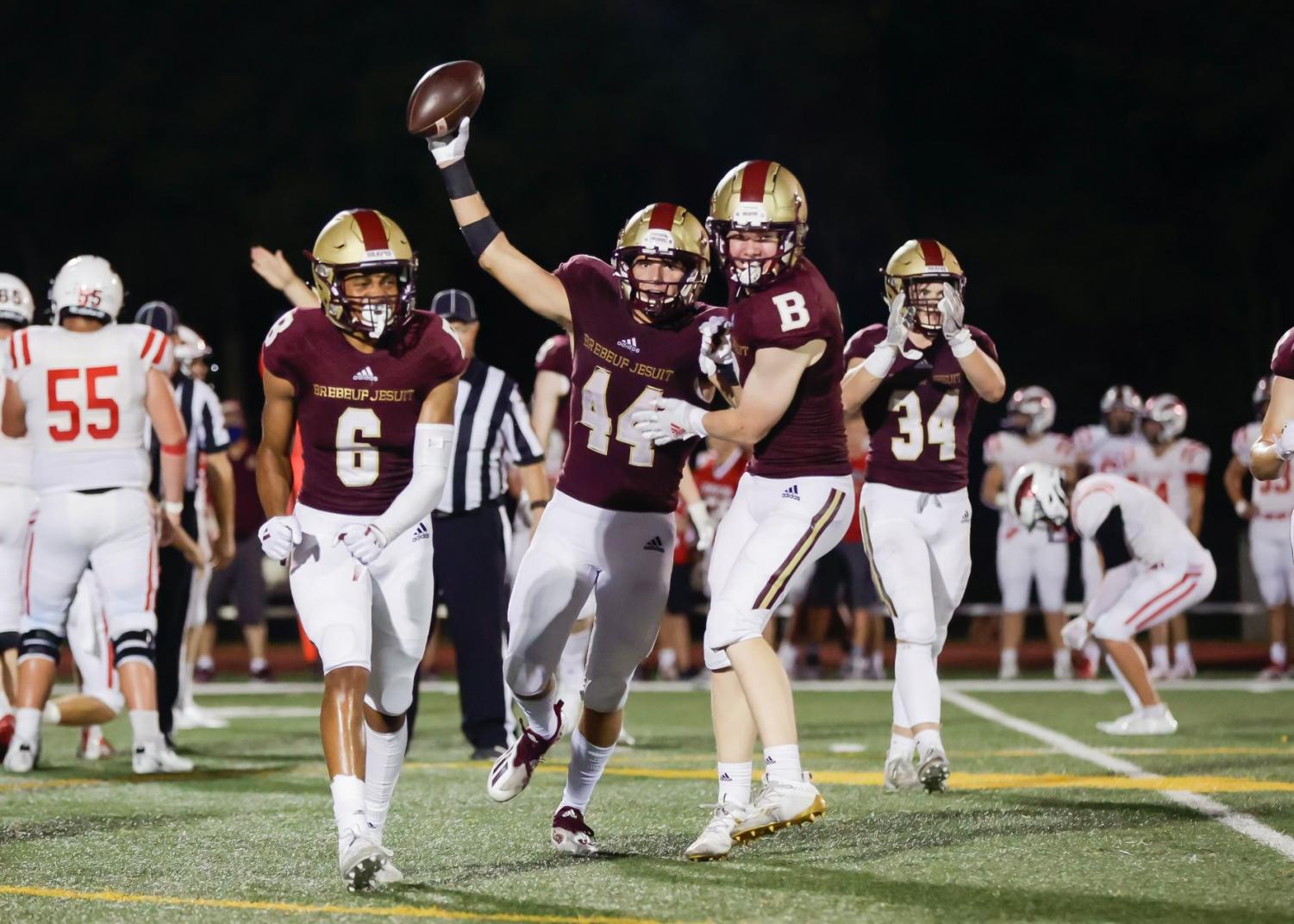 On Friday night, Brebeuf played in their first home game, and faced 5A former state champion New Palestine. It was another tough matchup on the long road of strong opponents for the Braves, but yet again, Brebeuf rose to the occasion, dominating the Dragons both offensively and defensively. But there was more to the game than what the casual fan saw on the scoreboard.
In the second quarter, quarterback Nolan Buckman reaggravated an arm injury he first sustained against Chatard after throwing for two quick touchdowns to Anthony Annee, and giving the Braves a 14-7 lead. Braves coaches had been aware of the possibility that Buckman could get reinjured, and had prepared for this earlier in the week by allowing Annee, a quarterback in middle school, to take reps during practice.
 "They (his coaches) trusted me to be able to throw the ball, … and they knew there was a chance that he (Buckman) wasn't going to finish the game, so they just put me out there," Annee said, and he handled the job with ease. 
He threw for a 32 yard gain to Rob Tuttle, which set up a remarkable 50 yard field goal by Ryan Kersteff. Then, he drove the Braves down the field efficiently at the start of the second half, connecting with Max Walters from four yards out for a touchdown. 
Walters had a career game of 207 yards and 2 touchdowns, making 9 receptions, including a 66 yard touchdown, a 55 yard gain, and a 35 yard gain. The play gave Brebeuf a dominant 24-7 lead entering the fourth quarter. 
Up to this point, I have been focusing on the quarterbacking heroics of Anthony Annee, and not giving the Brebeuf defense any credit. Well, they deserve a ton of credit, as they somehow outdid themselves from last week. Brebeuf's average drive start position was the 49. This stat is just ridiculous. 
Along with this, the Braves forced five turnovers, three of them coming by means of stops on fourth downs. Cole Williams had an amazing 11 tackles all with a sack and 1.5 tackles for loss, along with Brebeuf's sole interception. He also blocked a punt inside of the New Palestine ten, which set up Brebeuf's first touchdown. 
Jayden Childers had 9 tackles and forced a fumble, and Jerimiah Jackson had 6 tackles and 1.5 tackles for loss. Yet again, the Brebeuf defense played a huge role in the win, giving their offense good field position, and subtracting from the morale of the opposing players.
Annee started off the fourth quarter by connecting with Max Walters for the 66 yard touchdown mentioned earlier, which practically sealed the game. The fourth quarter ended with fans decked out in cowboy clothing cheering creative chants at the New Palestine student section based on how the Dragons would be unable to come back. 
They were correct, and after the teams traded touchdowns (including a touchdown pass from Clark Sweet, who usually plays running back), the clock ran out with Brebeuf winning 38-14. 
The game was a lot of fun to watch, and yet again showed how much potential this year's Braves have. "We've been playing really well, and have just been building our confidence as we go," said Annee, making sure to stress that the team has been making sure to take the season one week at a time and not get ahead of themselves. Although he is not yet sure when Buckman will return, he and the rest of the players are certainly ready to do whatever it takes to continue their unbeaten streak.
 They travel to Cardinal Ritter on Friday at 7 PM, and it isn't a game I would want to miss, as the Braves attempt to go 3-0 heading into Labor Day weekend.