Brebeuf Returns to Final Exams
Students will take traditional tests for the first time since Fall 2019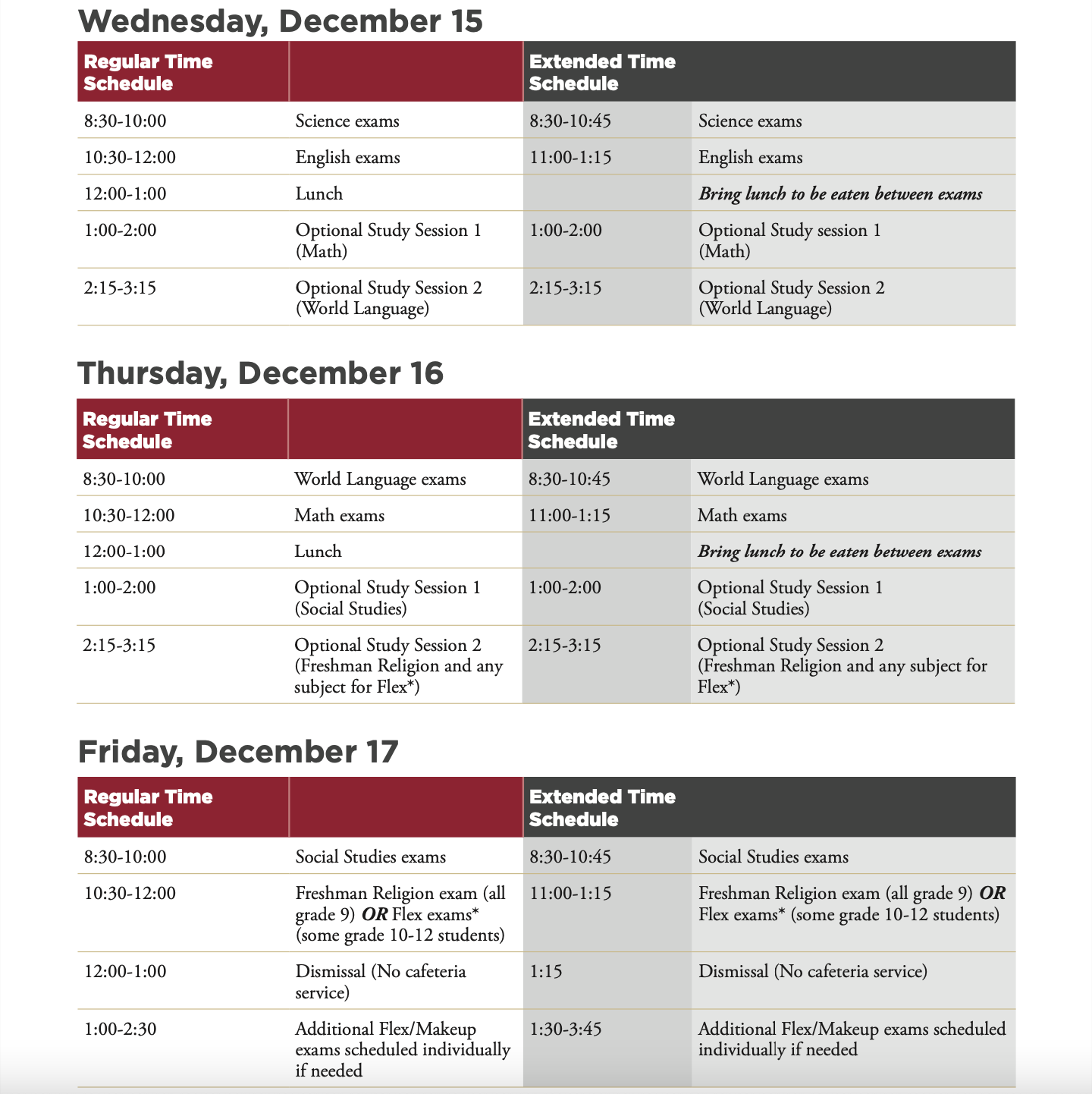 For many Brebeuf students, the anticipation of this unfamiliar experience can feel stressful. Emory Laughlin '22 says that she's "sure it's going to be fine. But at the same time it's going to be weird going back to taking finals, just in general, because we're not really used to that."
Laughlin says "the whole period of studying leading up to finals is something that we haven't had for a while, and that's a particularly stressful time." This experience of studying for finals will be new for many Brebeuf students, as both the sophomore's and the freshman haven't had traditional finals.  
During May of 2021, teachers could choose to give a final. There was a regular class schedule with designated days for each subject's potential final. However, there were still normal one-hour class periods, so the finals were shorter than usual. 
This year, students have finals December 15-17, with December 13 and 14 as academic freeze days. These two days before finals will be devoted to studying and helping students prepare for their finals. There will also be the second "De-Stress Fest" of the school year, with hot chocolate, crafts, and therapy dogs and cats, among many other things. 
Mr. Payne-Elliott, a teacher in the math department, says he likes that teachers and students have the ability to have scheduled study time for each subject, allowing students and teachers to create a clear plan for themselves. 
He also likes that during a final, all of the students for one course are taking the exam at the same time, saying "there's sort of a fairness and a peace about everyone, [everyone] has the same time to study, and everyone has the same schedule." 
However, one thing Payne-Elliot would change is the two academic freeze days before finals. Right now, these two days will act as normal school days, meaning some classes meet both days, while others meet only one day. 
Payne-Elliot continues, saying he'd prefer if the days were split evenly between classes, "so you meet with everybody in a class or you have… half of them on this day and half of them on the next day.  So… you're just meeting for a bigger block." 
He also says it may be beneficial to have a looser schedule on these days. "I think those days before the final exam should not just be freeze, but we're moving around the school. It should be like you get to have space to study and space to access your teachers for review face to face to prioritize what you need." 
This year's final exams will be a new experience for students and teachers alike.