Nick Saban vs. Kirk Ferentz
Who is the better college football coach?
Nick Saban
Nick Saban, who is undoubtedly the most illustrious and exceptional coach in the history of college football, is not even close to being comparable to Kirk Ferentz of Iowa. Having coached at Michigan State, LSU, and the distinguished University of Alabama, he has a combined record of 263-66-1.
Saban has seven national championships under his belt, in 2003, 2009, 2011, 2012, 2015, 2017, and 2020, as opposed to the zero that Ferentz has ever won or even played in. This also shows how coach Saban is just that much more successful than Ferentz ever will be at Iowa.
In terms of bowl games themselves, he has won the same amount (17) as Ferentz's teams have played in bowls (with a record of 9-8), further asserting his supremacy over Ferentz.
He also has won his Conference (SEC) 9 times, while Ferentz has won the inferior Big Ten Conference only 3 times. The SEC as a whole plays at a much higher and more physical level than what the Big Ten does, and this showcases that Iowa cannot win in a terrible conference more than 3 times in over 20 years.
Saban also holds an extensive list of coaching awards, of which he has 17 in contrast to Ferentz's 9 (see below).
Awards:
Paul "Bear" Bryant Award (2003, 2020)

Walter Camp Coach of the Year (2008, 2018)

George Munger Award (2016)

Bobby Dodd Coach of the Year (2014)

AP College Football Coach of the Year (2003, 2008)

Eddie Robinson Coach of the Year (2003, 2008)

Home Depot Coach of the Year (2008)

Sporting News Coach of the Year (2008)

SEC Coach of the Year (2003, 2008, 2009, 2016, 2020)
Clearly, there is a reason Saban is the highest-paid coach in all of college football at $9.8 million per year.
One might argue that Alabama is as non-academically focused as Iowa is, although that would also not be true. The graduation rate among players on Nick Saban's teams is 84.6%. At the University of Iowa, their football players only have a graduation rate of 80% under Kirk Ferentz.
Not only this, but Saban has coached 41 first-team All-Americans in his time at Alabama, and every player recruited by him since he was hired there won at least 1 national championship.
While coaching at the prestigious University of Alabama, Saban has churned out 39 first-round draft picks in his tenure, the most out of any coach in college football history.
Nearly all have gone on to become stars in the NFL at their positions, including Julio Jones, Mark Ingram, Dont'a Hightower, C.J. Mosely, Amari Cooper, Ryan Kelly, Marlon Humphrey, Calvin Ridley, O.J. Howard, Minkah Fitzpatrick, Derrick Henry, Quinnen Williams, Jedrick Wills, Devonta Smith, Mac Jones.
Some of the other greatest coaches in the history of the NFL or College, like Bill Parcells, Steve Spurrier, Bill Belichick, and Dabo Swinney have all acknowledged Saban as the undisputed best in all of the entire sport. To my knowledge, not a single person other than Jacob Smucker and Cian McClamroch have said these things about Kirk Ferentz.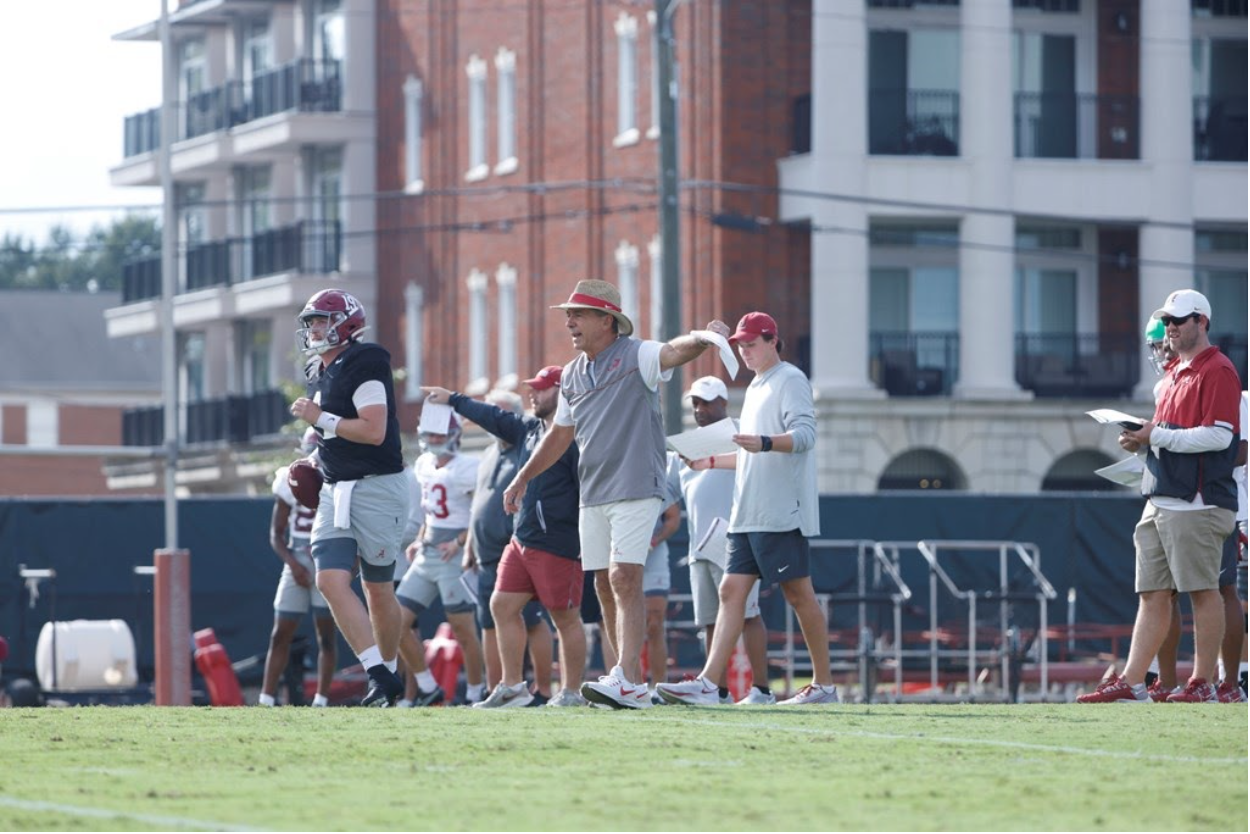 Enough said. There is no debate.
Kirk Ferentz
One might think that Nick Saban blows Kirk Ferentz out of the water when it comes to coaching prowess.  However, this is not the case.
Kirk Ferentz, head coach of the University of Iowa's football team, is undoubtedly one of the most slept-on coaches of all time.  He has solidified Iowa's status as one of the most prolific football programs in the nation, and I have no doubt that the Hawkeyes' greatness will continue for a long time, as long as Kirk Ferentz is at the helm.
Iowa has consistently developed incredible professional prospects, especially in the Offensive Line and Tight End positions.  Tristan Wirfs, Bryan Bulaga, T.J. Hockensen, Noah Fant, Micah Hyde, George Kittle, and of course C.J. Beathard are all notable Iowa alumni currently in the NFL.
While Nick Saban has seemingly won it all, including National Championships, SEC Championships, and individual awards, there is still one man whom Saban hasn't defeated: Kirk Ferentz.
In fact, Ferentz has bested Saban not once, but twice.  Ferentz dismantled Saban's Michigan State team 49-3 on October 2nd, 1999.  While not confirmed by any sources whatsoever, this may have caused Saban to run away from the Big 10, as he became LSU's head coach shortly after. 
However, he could not escape Kirk Ferentz.  Saban started the year of 2005 off with a heartbreaking loss to Ferentz's Hawkeyes 30-25, on January 1st.  While this was a closer matchup than the last, Ferentz once again proved his superiority over Nick Saban.
When Brebeuf Freshman Cian McClamroch was asked about the issue, he said "Nick Saban is blatantly overrated."
It seems that there may be a reason that Nick Saban hasn't scheduled any games against Iowa while at Alabama.
Yes, it is true that Saban has collected more trophies and awards in his coaching career than Kirk Ferentz has.  However, Ferentz's achievements are nothing to scoff at (See awards and championships below).
National Championships: 0
Conference Championships: 3 (2002, 2004, 2015)
Awards:
AP College Football Coach of the Year (2002)

Walter Camp Coach of the Year (2002)

Big Ten Coach of the Year (2002, 2004, 2009, 2015)

Bobby Dodd Coach of the Year (2015)

Eddie Robinson Coach of the Year (2015)

Woody Hayes Coach of the Year (2015)
Based on these reasons, the statement of "Kirk Ferentz is a better coach than Nick Saban" is not so much a belief, but an objectively true fact.