Girls cross country traditions
A breakdown of some lesser-known XC rituals
As a new school year begins with new activities and fall sports, some sports find ways to bond and have fun outside of the action. A prime example of this is the Girls Cross Country Team, who has a whole lineup of traditions ready for fun and action. 
One of the famous traditions currently is Team Togetherness Tuesday. "Every Tuesday there is Team Togetherness Tuesday, which means we take time during our practice to recognize some of the girls on the team for their accomplishments in the last meet or their dedication during practice," says Holyn Drook '26. These consist of little awards given out by the coaches for who's been positive, who's improved, and who's been a good teammate.
It is a great way to bond as well as receive some fun awards. For example, the Bibble award is for caring for your team, and teammates and coaches give out this award for kindness and selflessness shared in the program. The Mink award recognizes someone who works hard and may not typically be noticed. 
"I think my favorite tradition is probably Team Togetherness Tuesday. I think it's fun to celebrate everybody's little accomplishments and appreciate people for being positive and good teammates," said Elizabeth Dolan '23. 
The awards specified above are not the only ones given out; there is also a fight for the best senior each week. "My favorite tradition is the weekly senior cup. It's a white mug that says Best Senior and we get to vote and pick who we want to be the best senior that week," says Tasia Osili '26. 
Moving through the week Girls Cross Country has found ways to make their practices even more fun and exciting through Fun Run Fridays. Each Friday, the team has themed outfits such as pink out, monochromatic, blackout, and animal print as a way to bond with the team. 
Continuing through the week, each Friday, both the girls' and boys' teams convene for a weekly pasta dinner. 
When asked about favorite traditions Drook said, "My favorite cross-country tradition is the pasta dinners. I love the pasta dinners because I get to connect with my team on a deeper level and we get to know each other better than when we see each other in practice."
So why continue these traditions? Audrey Sloan '23 claims, "The pasta dinners really bring us together as a team, but it is also just a fun thing to do. And it draws people into the sport."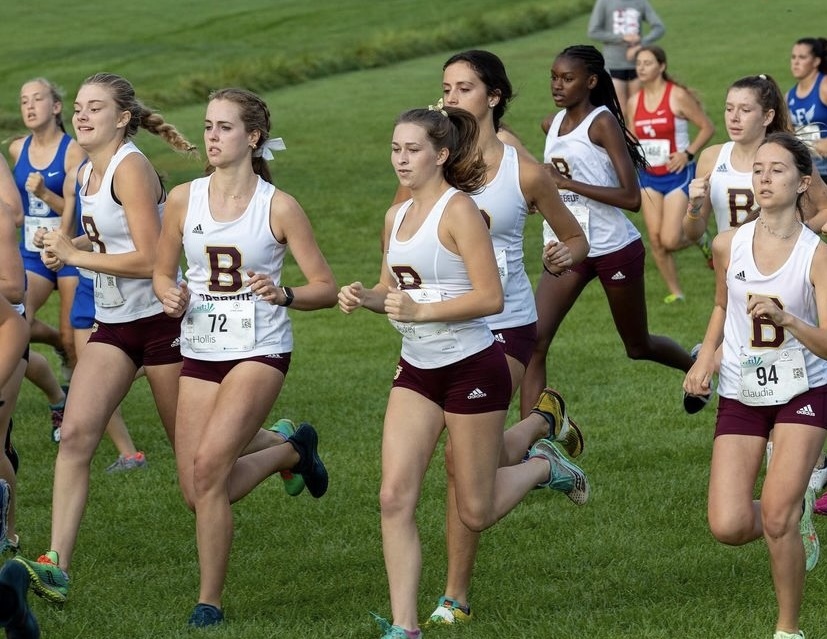 Speaking on what goes into the leadership aspect of these traditions, Sloan said, "Coming into this year, I've gotten to know a lot more of the behind-the-scenes as I've gotten to plan some of it. But it's always been a really fun thing that's set the cross country team apart from other sports because you get to celebrate your teammates." 
Not only do these traditions contribute to the fun energy of practice but they also help the team bond and the seniors take on an act of leadership. Dolan said, "Usually, we do a team scavenger hunt at least once a year where we have different items that everybody on the team has to do and compete for who gets the most points."
When asked about if their traditions help with team bonding Dolan answered, "I think the scavenger hunt definitely helps for team bonding. It involves some uncomfortable activities that you usually wouldn't do. So I think that definitely helps make people closer."
The girls cross country team has not only opened a gateway of fun during their practices; they have also uniquely found a way to bond with their teammates and grow in leadership as well.