"Three words I would use to describe Mr. Kaplan are energetic, passionate, and hilarious," says Leah Berg '25. "He's definitely one of my favorite teachers ever, and not just from high school. He makes it easy to learn because you can tell he's very passionate about math." 
This seems to be a common thought of Mr. Michael Kaplan, who has taught at Brebeuf for 4 years, for a lot of students. He is known for creating a lively environment around him with his classic dad jokes, high energy, and fun teaching style.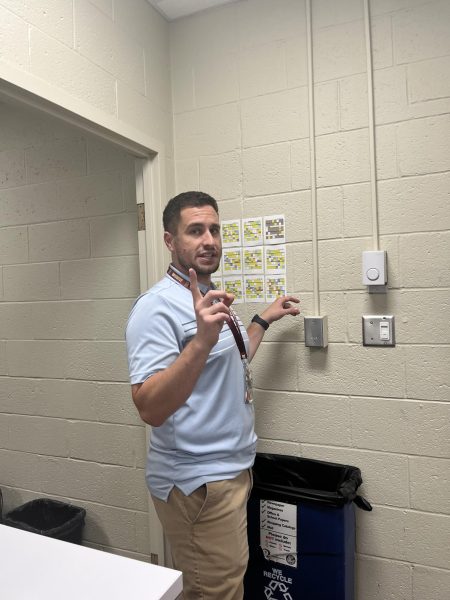 A lot of people know Mr. Kaplan from his role during Cafeteria Duty. Instead of standing in the front of the cafeteria and watching the students, Mr. Kaplan often goes around, asking students if he can get them anything. He clarifies, "Well, I can either stand there and be bored out of my mind for 45 minutes, or I can have some fun with it and make connections. It just feels like it's a better experience for everybody." 
Upon asking Mr. Kaplan how he starts off his day, he first responded with "Waking up 5:30 A.M. to try and run 3 or 4 miles." After realizing this was not another one of his "funny" dad jokes, he continued by explaining how he is training for a half marathon in October with Mr. Ealy, a sub at Brebeuf and also one of his best friends. 
Even though Mr. Kaplan described his least favorite part of the day as "when my kids wake up," and his favorite part of his day as, "when my kids go to bed," his 3 kids (one is a dog) are a big part of his life. His son, Teddy, is currently 4, and his daughter, Sari, is only one. And then there is Winnie, the dog. Mr. Kaplan gets up so early to run so he can beat the rush of his kids waking up. He then drops them off at daycare and gets his day started at Brebeuf.
Another one of Mr. Kaplan's favorite parts of his day is when he gets to school and drinks his coffee because "the possibilities of the day are endless." He asks himself, "Why can't this be the best day ever?" He loves teaching sophomores and juniors because he loves to see the growth they have from their freshman year, and how "something clicks" in the summer.